Just as a gem's true beauty is unveiled through careful polishing, peer evaluation has the remarkable ability to enhance and magnify the learning experience within a team.
We have covered various aspects of planning a TBL module, including creating learning outcomes, designing application activities, preparing prework, crafting effective multiple-choice questions for the readiness assurance process, developing a successful agenda, and creating an effective faculty guide. Now, let's explore the final step in this process - incorporating peer evaluation. In this blog post, we will delve deeper into the significance of peer evaluation and explore strategies to seamlessly incorporate it into your team-based learning classes.
Peer Evaluation in Team-based Learning
Peer evaluation is a valuable tool in team-based learning (TBL) that offers students a structured process for critiquing and providing feedback on each other's work. It fosters the development of lifelong skills in assessing and providing constructive feedback to others. Additionally, peer evaluation equips students with the ability to self-assess and continuously improve their own work, fostering a sense of ownership and growth.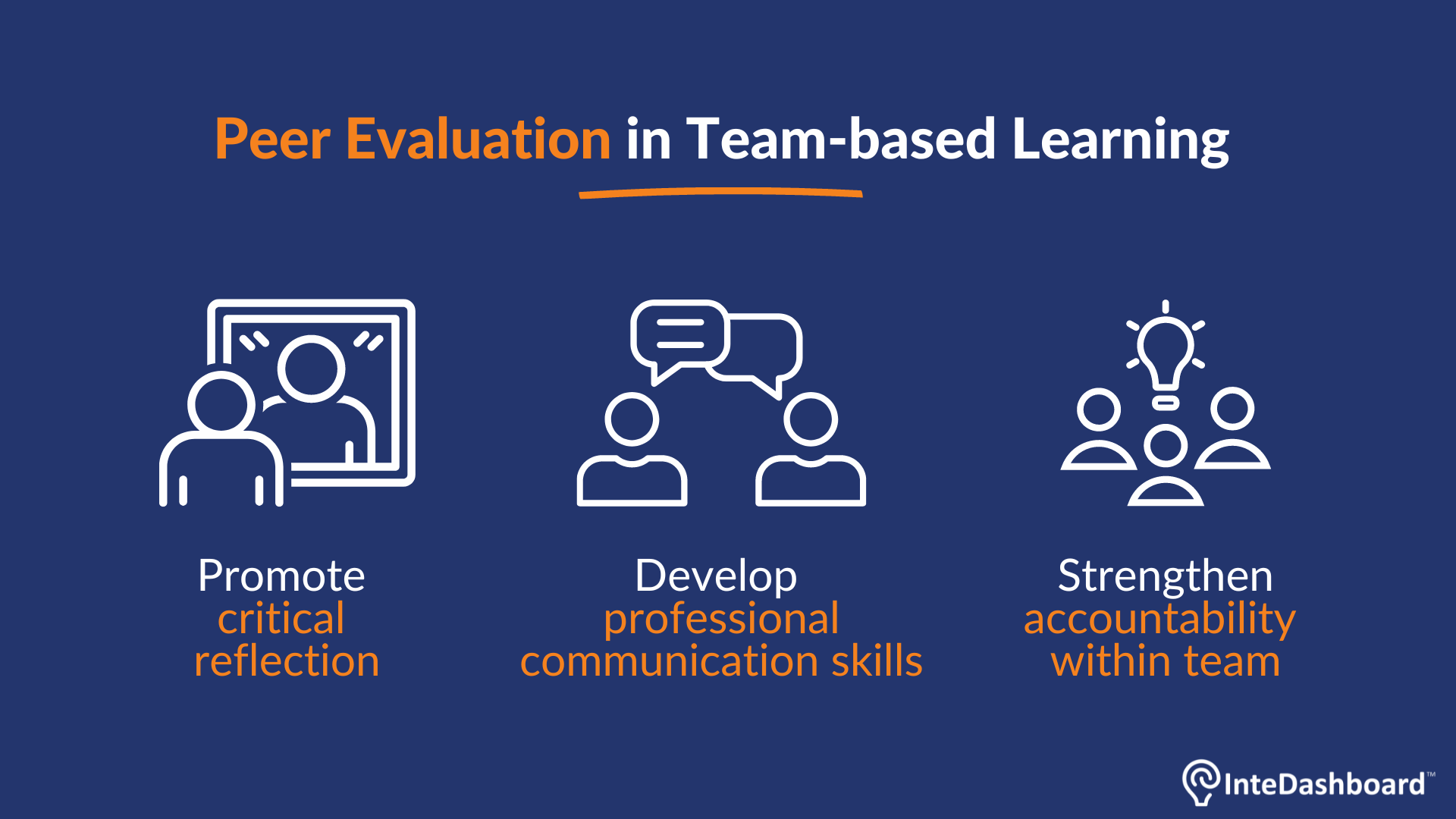 In TBL, peer evaluation plays a pivotal role for three essential reasons. Firstly, it serves as a catalyst for promoting critical reflection on individual behaviors within the team. Engaging in peer evaluation allows students to assess their own contributions, encouraging self-awareness and identifying areas for personal growth. Secondly, it provides valuable opportunities for students to develop their professional communication skills. Giving and receiving feedback requires effective communication, active listening, and the ability to express thoughts constructively. Through this process, students refine their communication abilities and gain insights into providing feedback professionally. Lastly, peer evaluation empowers students to reflect on their peers' comments and strengthen their accountability within the team. By carefully considering the feedback received, students can evaluate their teamwork behaviors, pinpoint areas for improvement, and take responsibility for their contributions.
Getting Started with Peer Evaluation
When it comes to peer evaluation, there are several criteria that can be considered to assess individuals' performance within a team. Three commonly used criteria are preparation, participation, and contribution.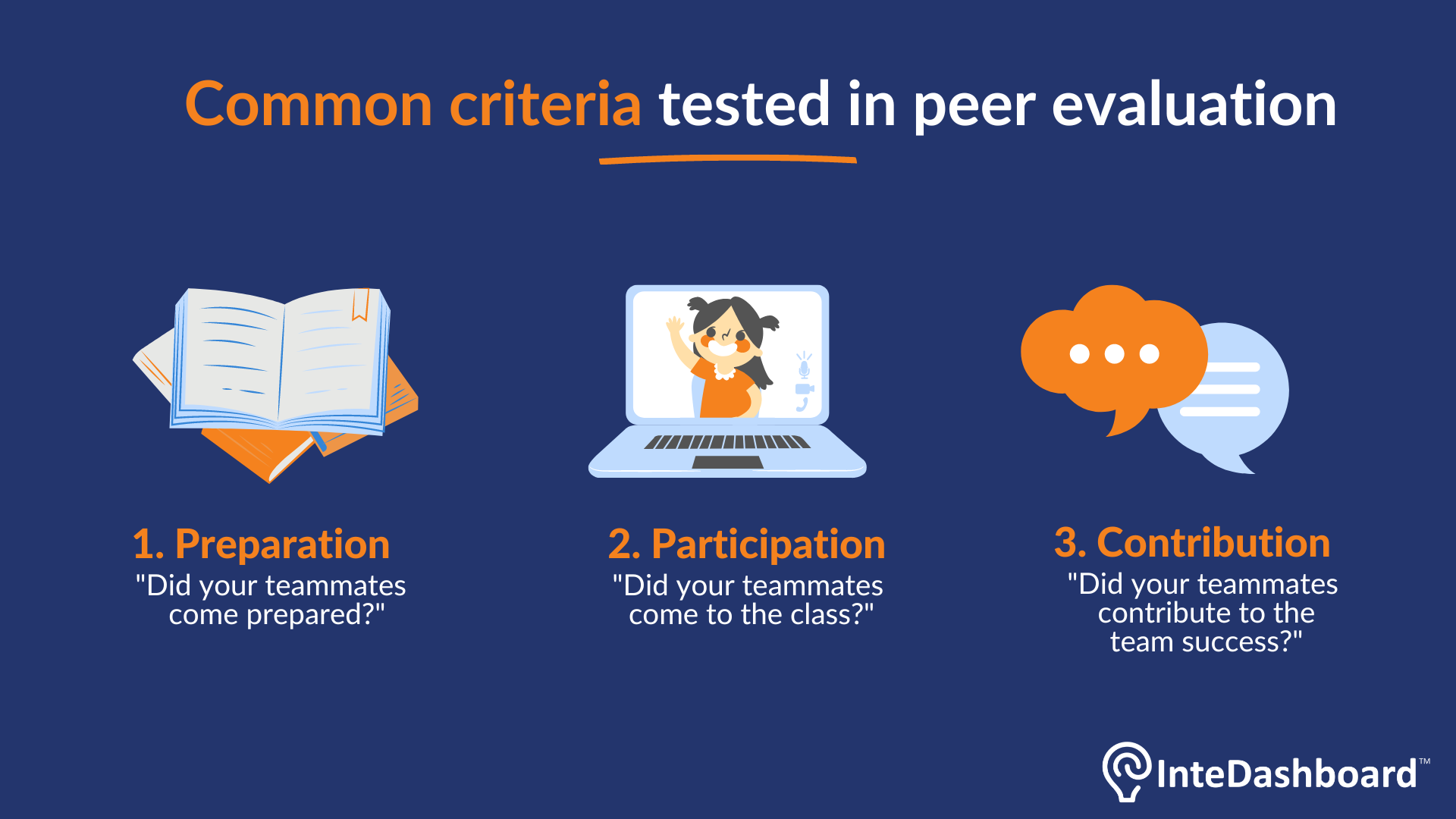 Preparation: This criterion evaluates individuals' readiness for the classes. It examines whether they have completed their prework and acquired the necessary knowledge for active participation.
Participation: This criterion evaluates individuals' active engagement in team activities. It assesses their communication skills, teamwork abilities, and capacity to collaborate effectively with others.
Contribution: This criterion assesses individuals' quality and quantity of work towards achieving team goals.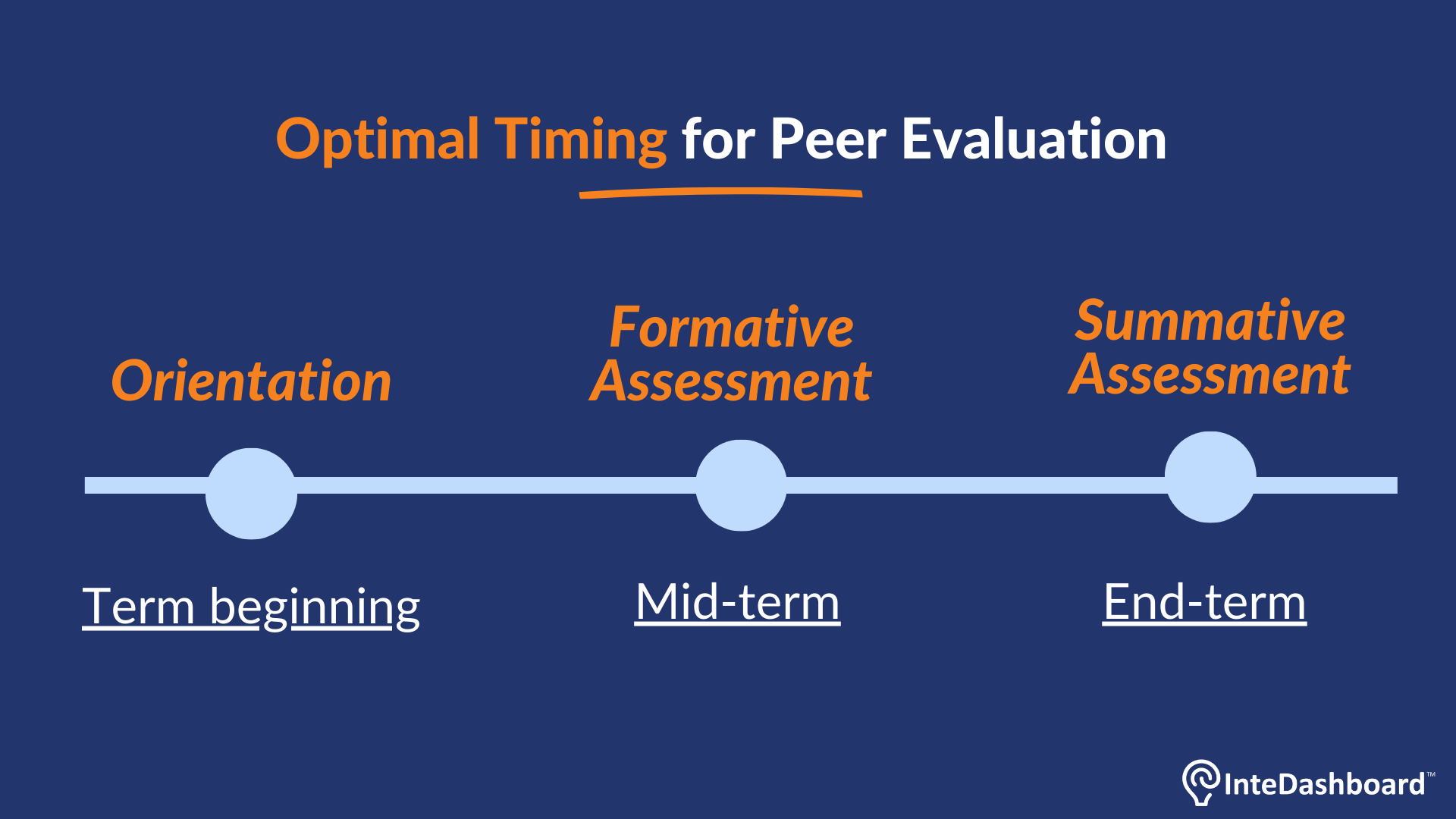 Instructors may conduct evaluations at different stages: at the term beginning for orienting students, a mid-term evaluation for feedback, and an end-term evaluation for final assessment.
Term beginning: Conducting peer evaluations at the start of the course familiarizes students with the process and criteria, fostering accountability.
Mid-term evaluation: A mid-term peer evaluation allows individuals and teams to reflect on their progress, address any challenges, and make necessary adjustments.
End-term evaluation: At the end of a course, conducting peer evaluation allows students to reflect on their overall achievements, growth, and contributions.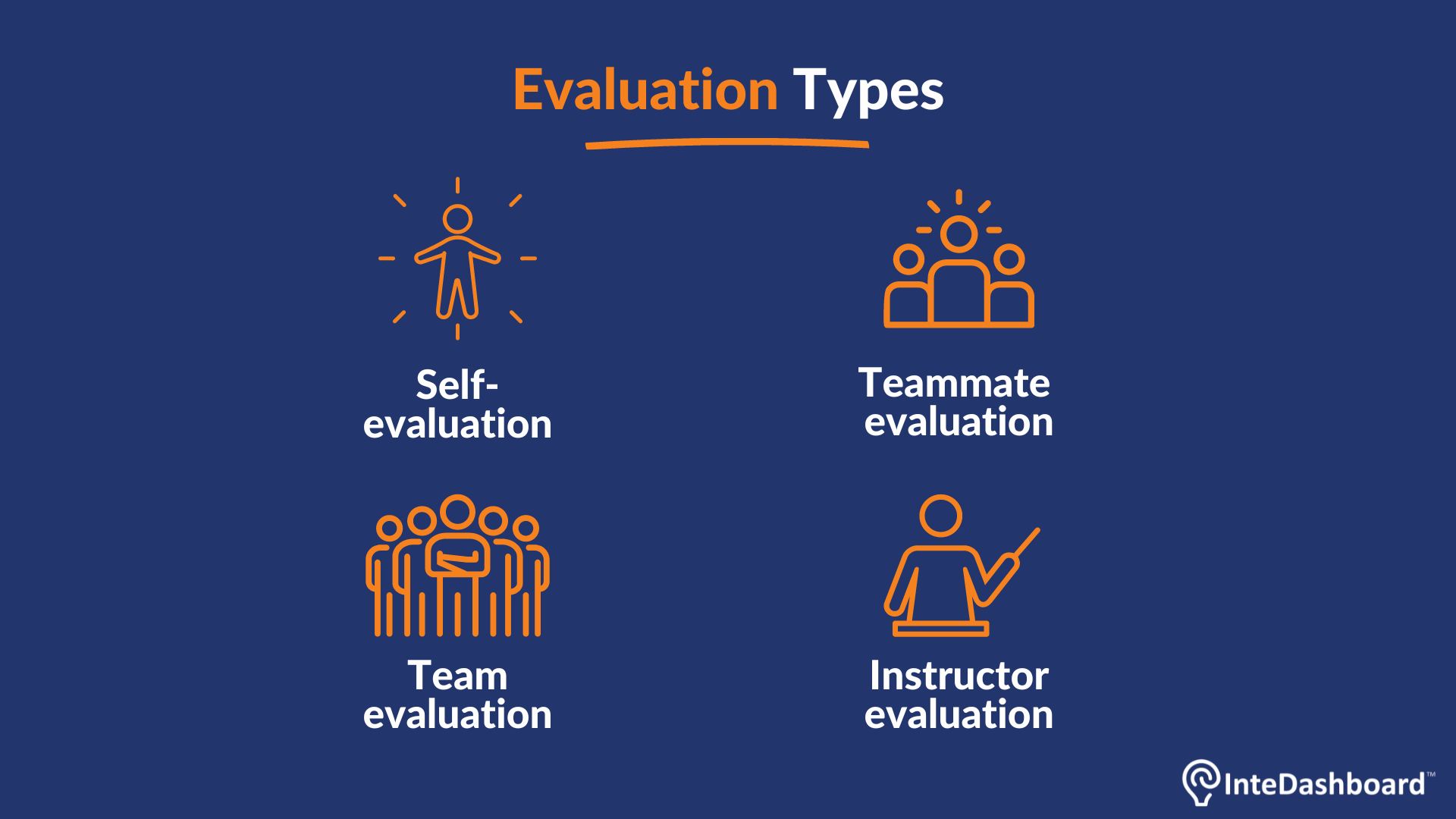 Instructors may use a mix of evaluation types to gain comprehensive insights into personal growth, team development, and instructional improvement. Self-evaluation promotes self-reflection on strengths and weaknesses, while teammate evaluation focuses on peer assessment. Team evaluation assesses overall team performance, and instructor evaluation gathers feedback on teaching effectiveness.
Selecting the Peer Evaluation Method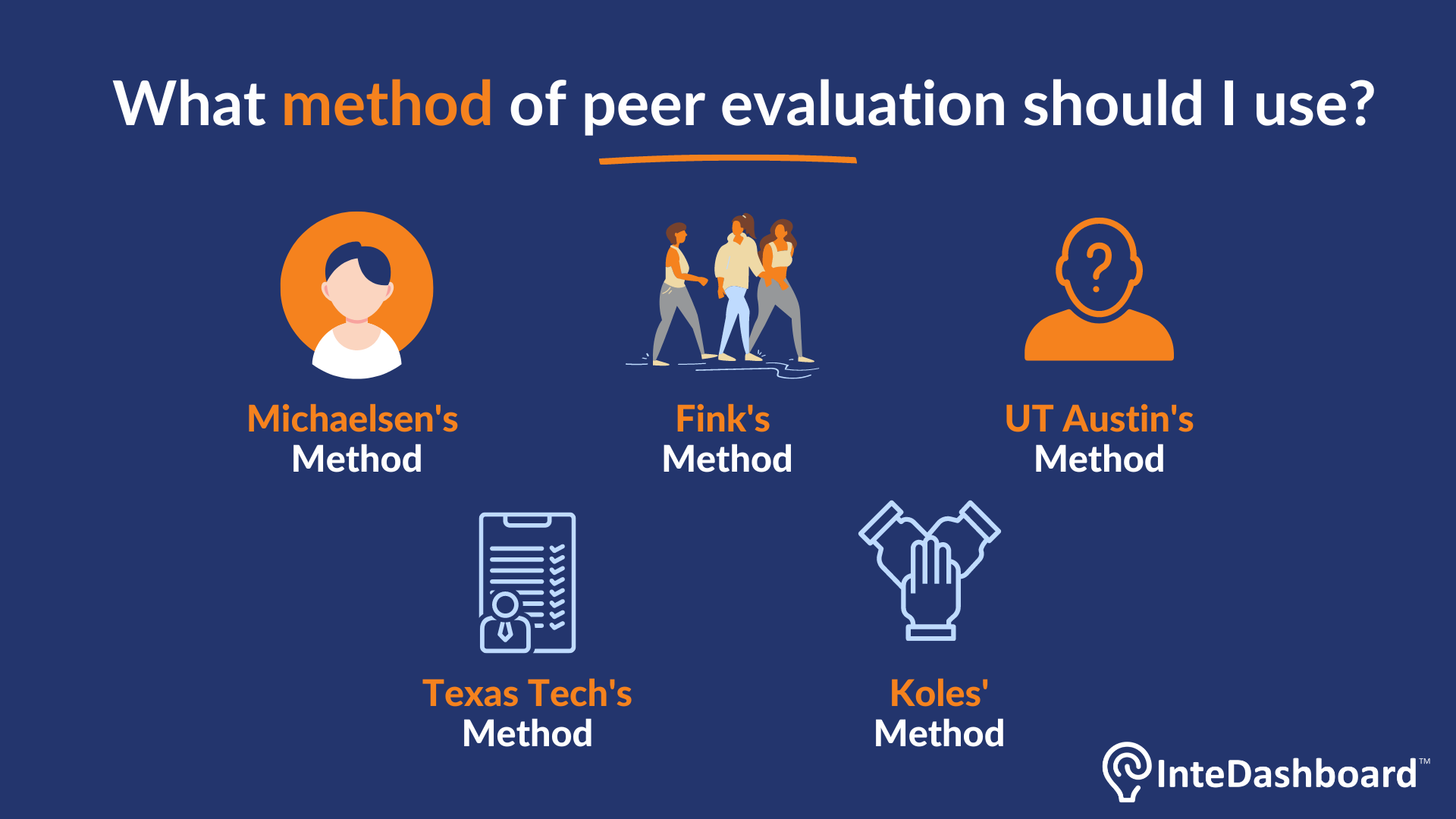 Instructors have the flexibility to choose from various methods of peer evaluation based on their specific needs. These methods include quantitative approaches like Michaelsen's and Fink's methods, qualitative approaches like UT Austin's method, and hybrid methods such as Texas Tech's and Koles' methods. The selection of an appropriate peer evaluation method depends on factors such as the size of the class, the nature of the assessment criteria, and the overall goals of the peer evaluation process. To delve deeper about which method might be right for you, check out our blog post on Which Peer Evaluation Method is Best for Your Course? here.
With peer evaluation, instructors uncover a hidden gem within the learning process. Like skilled artisans, they meticulously shape and refine the educational experience, unveiling the brilliance and untapped potential of each student. Peer evaluation serves as the catalyst, honing students into accomplished individuals, fully equipped to excel in their academic and professional endeavors.