We've seen Michaelsen's and Fink's methods for peer evaluation in previous posts. We've even compared the differences between these two methods. This time we're going to consider two additional approaches for you to gather inspiration from to conduct your own peer evaluations. Remember, there is no one size fits all approach. You have to experiment and learn what works in your particular context.
Koles' method for Peer Evaluation
Paul Koles from the Boonshoft School of Medicine at Wright State University developed a quantitatively thorough form of peer evaluation wherein students rate their peers based on 3 key areas:
Cooperative learning skills

Self-directed learning skills

Interpersonal skills
There are several prompts within these areas which you can be used to create peer evaluation question form. Students are required to rate their peers on a scale of 1 through 4 where 1 means "never" and 4 means "always".
Furthermore, there is a qualitative section where they have to write at least one sentence about their peers on 2 questions
What is the single most valuable contribution this student has made to your team?

What is the single most important thing this person could do to more effectively help your team?
Students usually stay in the same teams throughout the academic year, so a formative peer evaluation is conducted halfway at this time. Then, at the end of the year, a summative peer evaluation is done which is worth 10% of the students' grade.
The issue with this method is that the quantitative evaluation scores tend to be inflated given that students are not required to rate all their peers with different grades. Nevertheless, the qualitative side of this peer evaluation is still quite useful for students.
Texas Tech's method for Peer Evaluation
Kitty McMahon at Texas Tech School Of Medicine, together with her colleagues, decided to adapt a Professionalism and Communication Assessment form from the Association of American Medical Colleges and began using it as a resource for peer evaluation.
This form of peer evaluation is similar to Koles' method because it also has several criteria against which students are evaluated by their peers. These include areas like dependability, humility, preparation, etc. There are 12 criteria in total and you may see them in the example in the references section (Levine, 2012).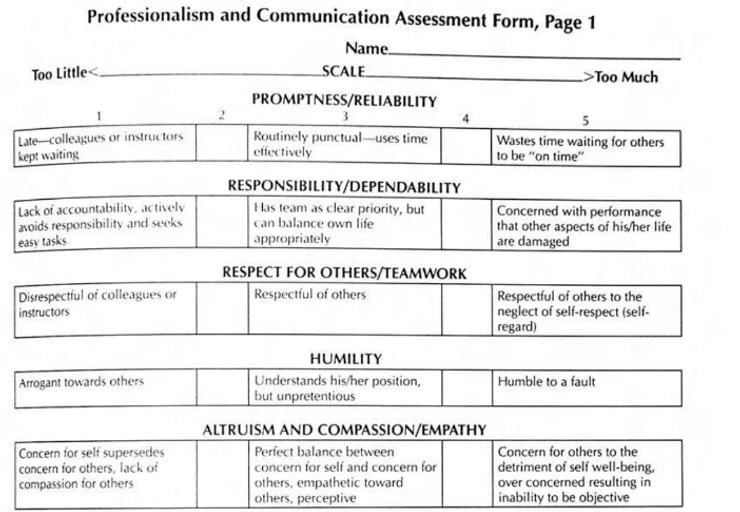 Each student is then ranked on a 5-point scale for each criterion where 1 is considered to be too little and 5 too much. 3 is the ideal score.
A unique characteristic of this method compared to other peer evaluation methods is that it is not used to adjust student grades. Once again, the lack of requirement to discriminate between students lends itself to grade inflation.
As you may have noticed, not being able to give the same score to all team members is a common issue among various approaches to peer evaluation. You may see a compilation of this and other common issues that arise in peer evaluation together with suggested solutions in this post about Common Peer Evaluation Challenges and Solutions.
Have you already decided which peer evaluation method to use? See our post on the 4 Best Practices For A Successful Peer Evaluation to put it into practice masterfully!
References
1. Levine, R.E., 2012. Peer evaluation in team-based learning. Team-Based Learning for Health Professions Education: A Guide to Using Small Groups to Improve Learning, pp.103-116.