Peer evaluation has emerged as a powerful process for fostering collaborative learning and providing valuable feedback to students. However, the process of peer evaluation can sometimes be ambiguous and subjective, leading to inconsistent outcomes. That's where rubrics come into play – these structured scoring guides bring clarity and objectivity to the peer evaluation process.
What are rubrics?
Rubrics are used to define the expectations of a particular assignment, providing clear guidelines for assessing different levels of effectiveness in meeting those expectations.
Instructors should consider using rubrics when conducting peer evaluation for the following reasons:
Increase Transparency and Consistency in Grading: Rubrics promote transparency by outlining success criteria and ensuring consistent grading, fostering fairness in assessments.
Increase the Efficiency of Grading: Rubrics streamline grading with predefined criteria, enabling quicker evaluations.
Support Formative Assessment: Rubrics are useful for formative assessment, providing ongoing feedback for student improvement and progress over time.
Enhance the Quality of Self- and Peer-Evaluation: Rubrics empower students as active learners, fostering deeper understanding and critical thinking through self-assessment and peer evaluation.
Encourage Students to Think Critically: Rubrics link assignments to

learning outcomes

, stimulating critical thinking and encouraging students to reflect on their performance's alignment with intended outcomes.
Reduce Student Concerns about Subjectivity or Arbitrariness in Grading: Rubrics offer a clear framework for evaluation, minimizing subjectivity and ensuring that assessments are based on specific criteria rather than subjective judgment.
Components of a Rubric
A rubric comprises several essential components that collectively define the evaluation criteria for a given module. Firstly, a clear task description is needed, outlining the expectations and requirements. This description serves as the foundation upon which students' work will be assessed. The scale helps in gauging performance levels by offering various ranges such as good-bad, always-never, or beginner-expert. Moreover, the rubric breaks down the evaluation into distinct dimensions, which are specific elements of expectations that together shape the overall assessment. These dimensions can encompass various aspects like timeliness, contribution, preparation, and more. Lastly, a rubric requires a definition of the dimensions, outlining the performance levels for each dimension and providing a clear understanding of the expectations at each level.
Types of Rubrics: Holistic vs Analytic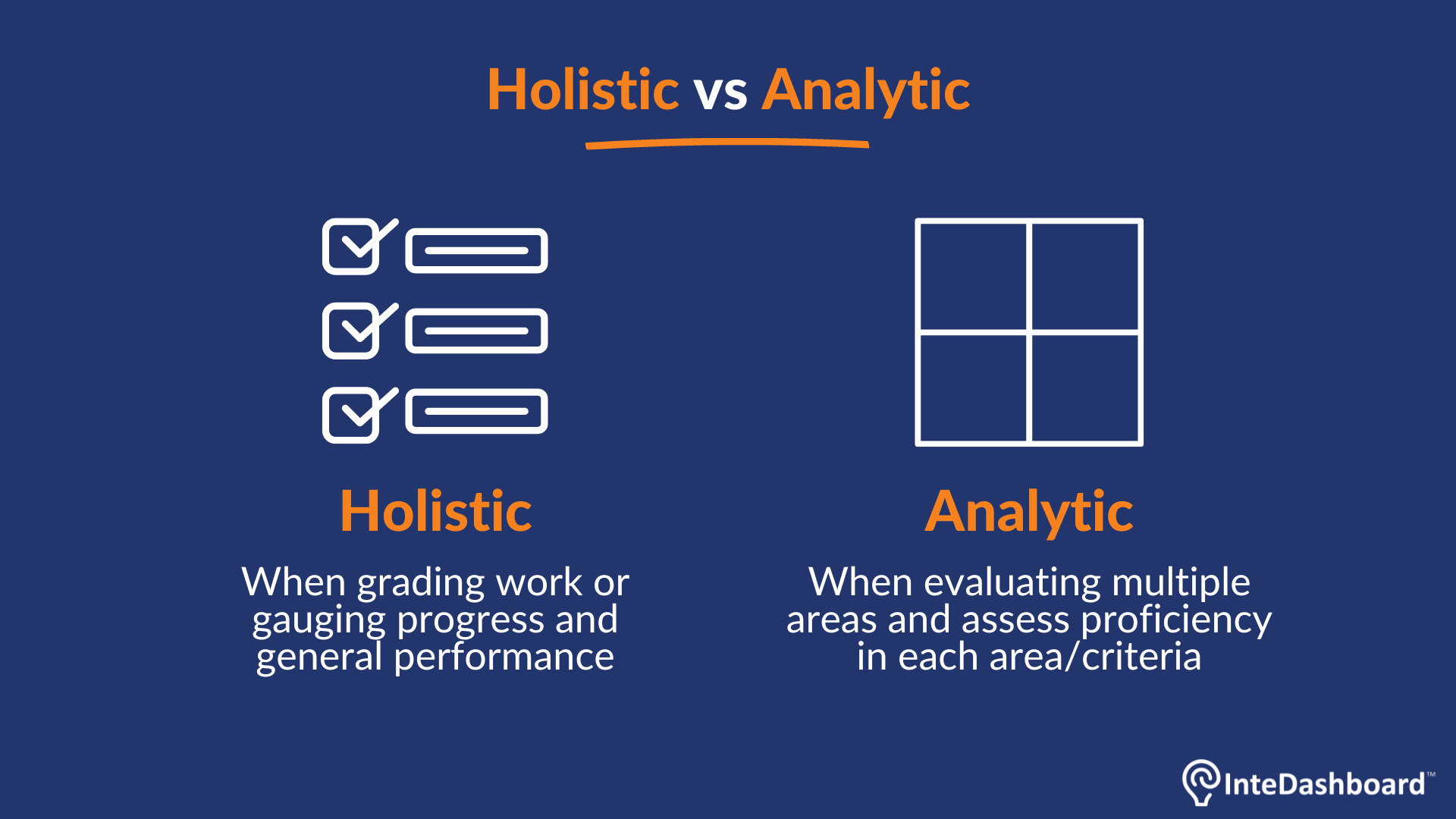 When it comes to assessing student performance, two common types of rubrics are employed: holistic and analytic.
Holistic rubrics use rating scales that encompass multiple criteria, emphasizing what the learner can demonstrate or accomplish. These rubrics are easier to develop and use, providing consistent and reliable evaluations. However, they do not offer specific feedback for improvement and can be challenging to score accurately.
In contrast, analytic rubrics use rating scales to evaluate separate criteria, usually presented in a grid format. Each criterion is associated with descriptive tags or numbers that define the required level of performance. Analytic rubrics provide detailed feedback on areas of strength and weakness, and each criterion can be weighted to reflect its relative importance. While they offer more comprehensive feedback, creating analytic rubrics can be more time-consuming, and maintaining consistency in scoring may pose a challenge.
Holistic rubrics are preferable when grading work or measuring overall progress and general performance. On the other hand, analytic rubrics are more suitable for evaluating multiple areas or criteria separately, allowing for a more detailed assessment of proficiency in each area.
Rubrics in Formative vs Summative Assessments
When deciding between using a holistic or analytic rubric, several factors come into play. One crucial consideration is the purpose of the rubric and how it aligns with the assessment goals.
For formative assessment, where the focus is on providing ongoing feedback and supporting student learning, a holistic rubric might be more suitable. It allows educators to assess progress comprehensively, giving students an overall understanding of their performance.
In contrast, for summative assessment, where the emphasis lies on making final evaluations, an analytic rubric could be more effective. It breaks down the evaluation into distinct criteria, offering specific feedback on each area of assessment, enabling a more detailed and precise evaluation.
Examples of Rubrics in Peer Evaluation for Team-based Learning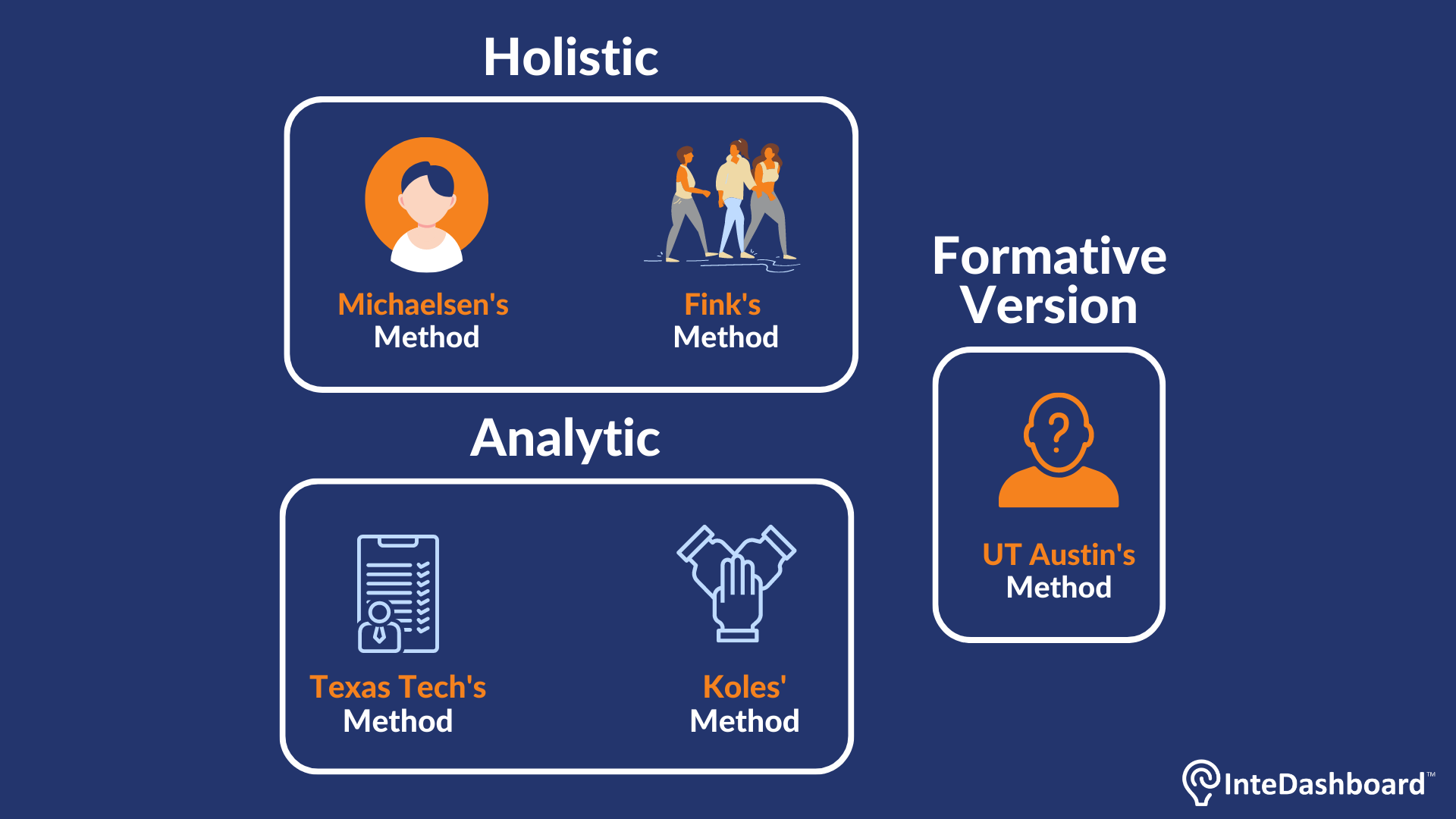 Analytic rubrics, like Koles' and Texas Tech's methods, evaluate individual criteria separately, providing detailed feedback on various aspects of performance. Additionally, UT Austin's method, which is useful for formative assessments, focuses on ongoing feedback to support student learning and growth throughout the evaluation process. In contrast, holistic rubrics, such as Michaelsen's and Finks' methods, create an overall assessment score, capturing a comprehensive view of a student's performance. For an overview of these methods, fill out the form here to gain access to our Peer Evaluation Methods guide.
All in all, rubrics empower both educators and students to engage in meaningful and effective evaluations. The thoughtful application of rubrics ensures fair and transparent evaluations, ultimately contributing to enhanced learning outcomes.