One of the most crucial elements for the success of a team-based learning program is to ensure all teams are formed effectively.
"When the teams are appropriately formed, there will be optimal team learning as students will be put on equal footing and there would be less possibility of mistrust from pre-existing relationships among team members." (Michaelsen and Sweet, 2008)
Not sure how to effectively form TBL teams? Here are four ways to do so.
1. Form balanced teams.
The first step in group formation is gathering information about students' course-relevant characteristics to form balanced teams. Consider students' related exposure experiences if you are teaching an undergraduate class, or students' past working experiences if you are teaching a postgraduate class. For example, if you are teaching a course on healthcare management to students, you might want to take into consideration of their past experiences in that field.
The range of students' strengths and weaknesses must be fairly distributed across all teams in your course. This ensures a wide range of skills, personal experiences, and opinions that can come into play during team deliberations (Jim Sibley, 2018). Thus, the teams formed would be balanced and no teams would be at an advantage or disadvantage over another.
2. Randomly select teams.
A random selection of students is one of the best ways to form teams in a TBL setting when students have similar characteristics in terms of academic qualifications. The students may also be regrouped in necessary situations, such as when there is a gender imbalance in the group. According to a study by Ruder, Maier, and Simkins (2021), students in randomly-selected teams (vs. instructor-selected teams) are less likely to blame the instructor for team problems and more likely to solve problems themselves.
3. Determine the team size based on the teaching modality.
Whether the students are all physically together, attending the lesson fully virtually, using audio only in a virtual lesson, or having a hybrid lesson, the size of the groups should change according to the setting you are in.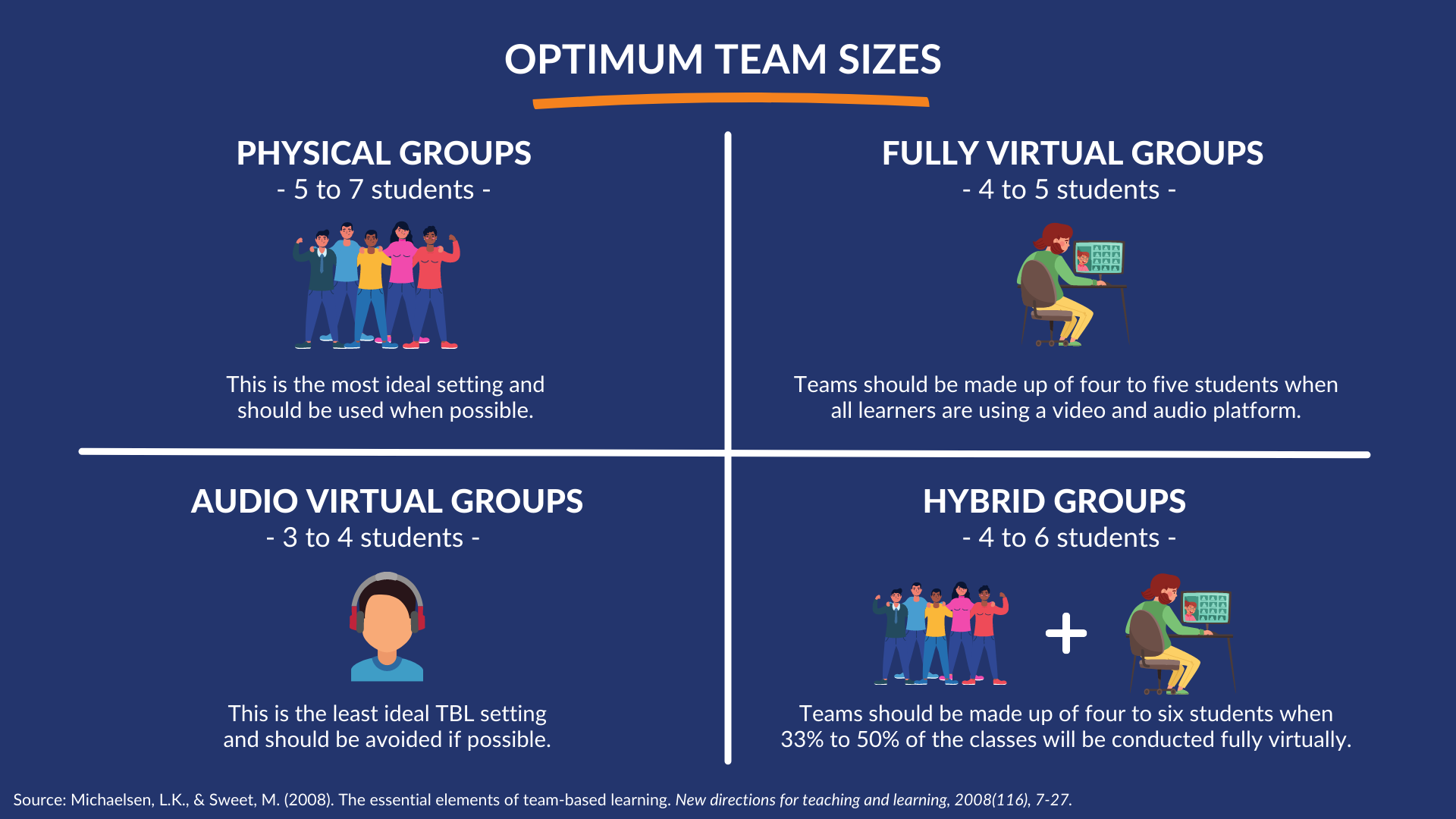 Having large TBL teams of five to seven students is the recommended size for teams to be able to solve complex and real-world problems in a TBL course (Jim Sibley, 2018). With the new normal where most classes tend to be conducted fully virtually or in hybrid, having four to six students per team is ideal to create an effective collaborative learning environment.
4. Keep the teams permanent.
The teams will naturally get better at solving difficult problems together with time and practice. When students consistently work together, they get to build greater accountability, team cohesion, and rapport with one another. Teams must be permanent for the duration of the course to allow this to happen (Jim Sibley, 2018).
These are only guidelines – the way you form your teams might vary from one course to another. If you want to know more about TBL team formation, you can reach out to us here for a one-to-one consultation.