Do your students dread group work? You are not alone - many educators face this challenge with their students.
The problem with group work is that the division of workload is often unequal (Glasgow, 2012).
Accountability for learning also tends to shift from individual to group, resulting in only a few students contributing to the work while the others become disengaged (Glasgow, 2012).
Nevertheless, educators might still want to conduct group work due to its benefits for students. However, educators should consider implementing team-based learning instead, which may solve the problems of group work.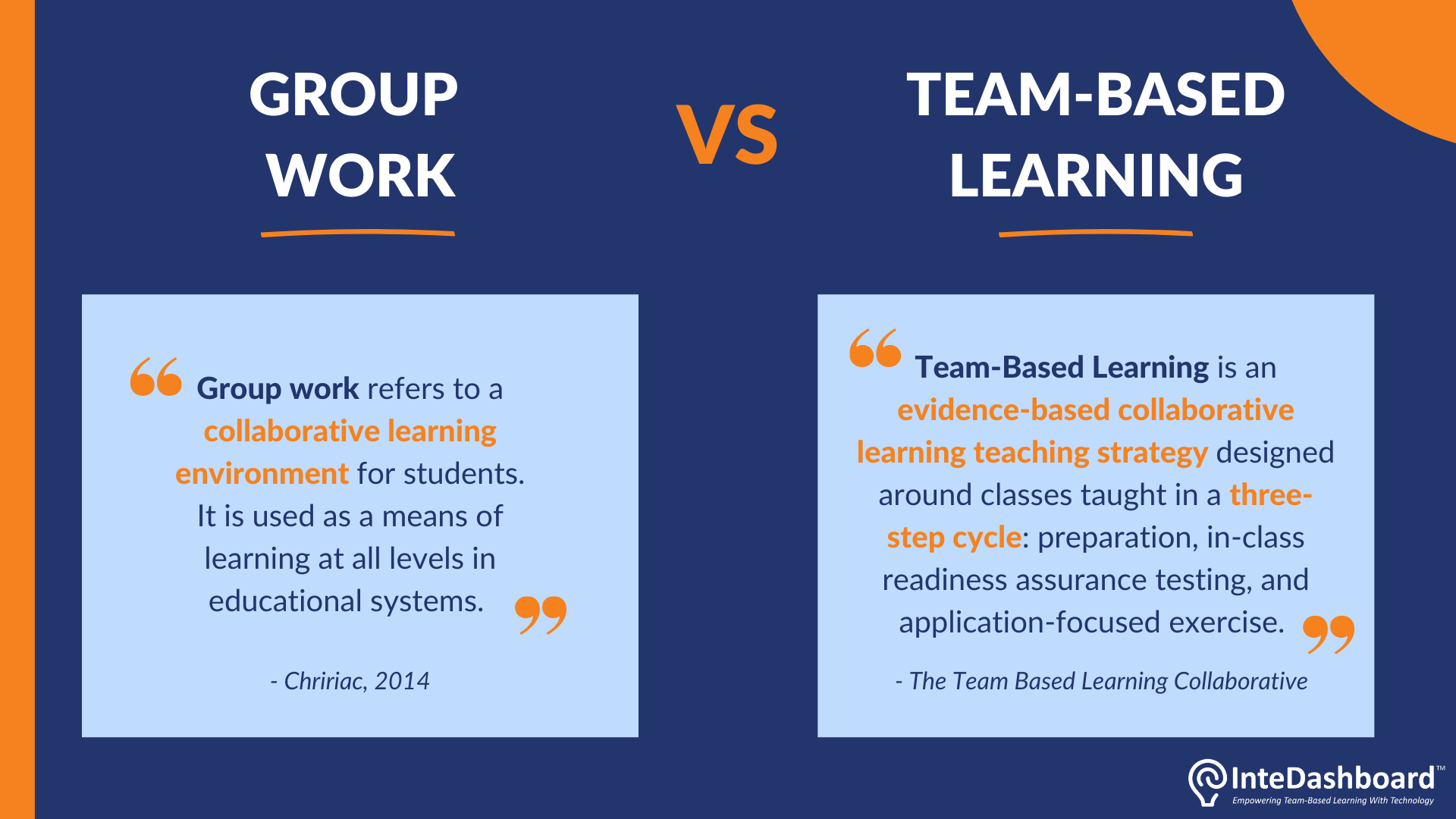 Group work and TBL are similar in that they involve several students working together to complete an assignment. Both also allow students to develop collaborative and decision-making skills (Parmelee and Michaelsen, 2010).
However, unlike group work,
1. Team-based learning provides a structured form of small-group learning.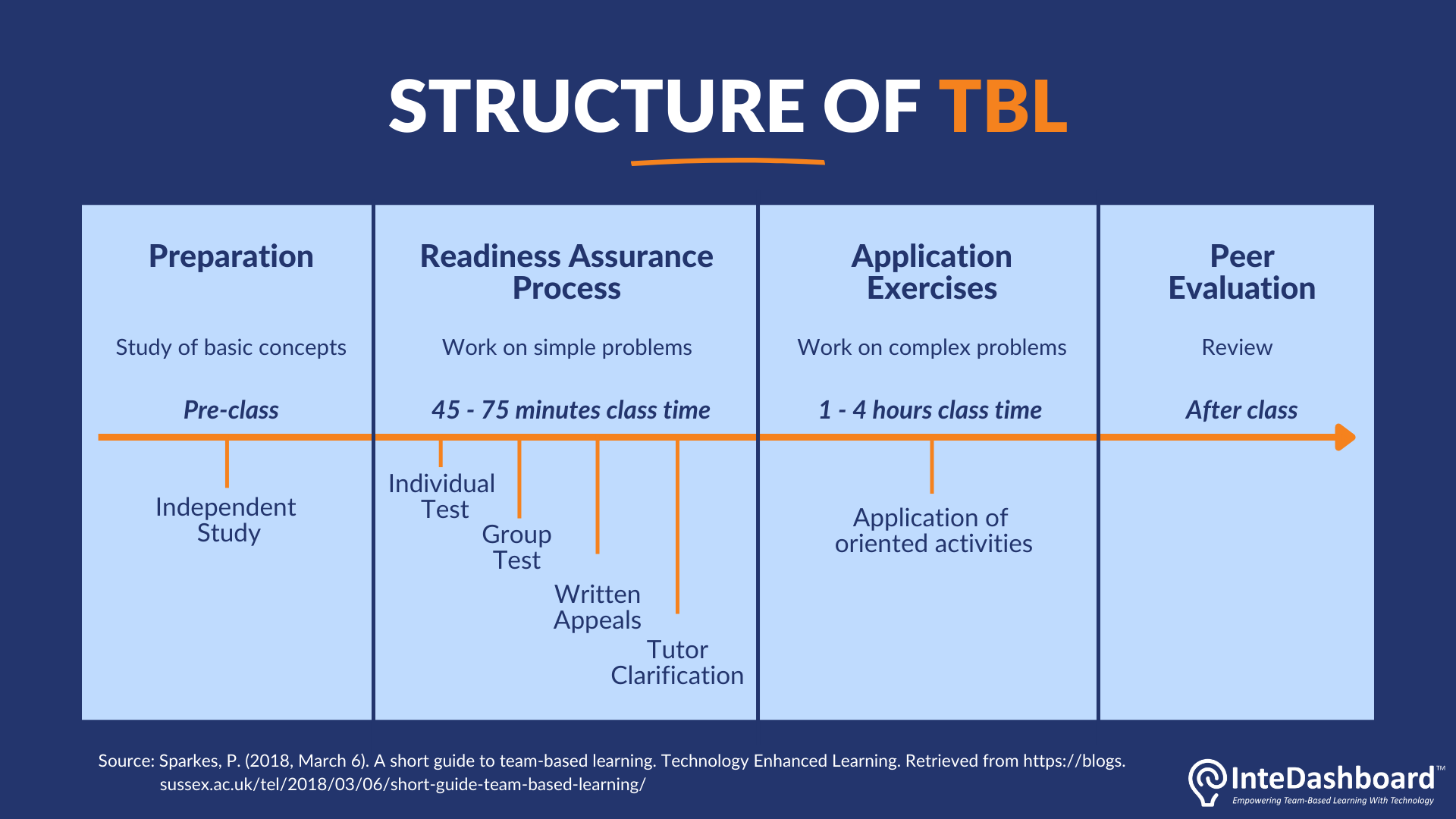 There is a structure in team-based learning, while there are no specific steps to follow in group work.
The four essential elements of TBL are preparation, readiness assurance process (RAP), application exercises, and peer evaluation (Sparkes, 2018).
Students are required to review a set of preparatory materials – which may take the form of readings, presentation slides, audio, or video lectures – before the start of each class.
Readiness Assurance Process
Students complete a set of five to 20 multiple-choice questions based on the pre-work materials – once done individually (IRAT) and then with their team (TRAT).
After taking the IRAT and TRAT, students may choose to create a written appeal for questions answered incorrectly.
Students may also seek clarification from their teachers regarding unfamiliar concepts.
Students work together to solve complex application problems that require them to apply and expand on their acquired knowledge.
Students evaluate one another's performance through peer evaluation at the end of the course.
2. Team-based learning requires strategically formed groups that stay permanent throughout the course.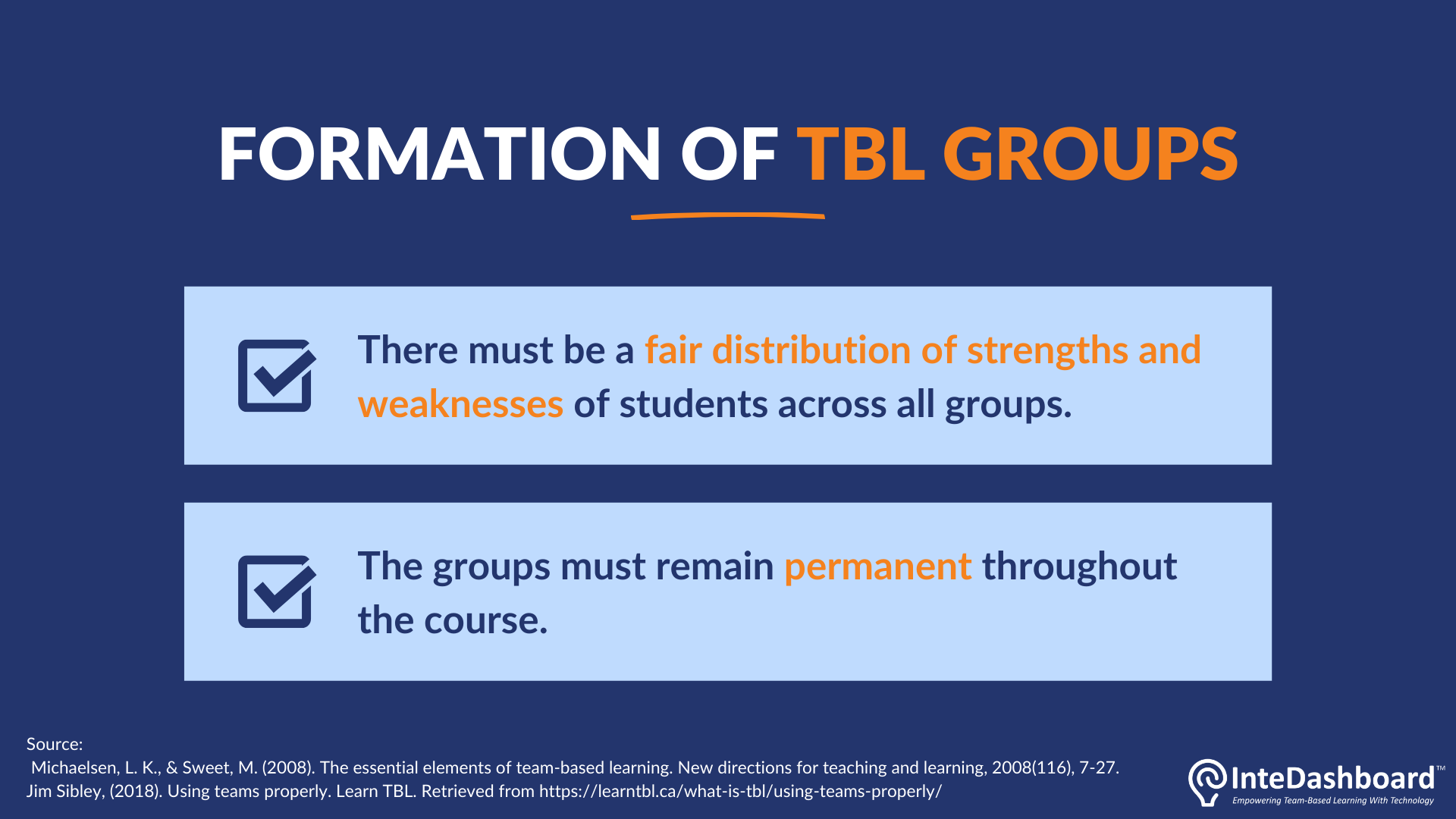 Strategic group formation is one of the most crucial elements for the success of a TBL program.
Forming TBL groups requires considering the course-relevant characteristics of students (Michaelsen and Sweet, 2008). There must be a fair distribution of strengths and weaknesses of students across all groups.
TBL groups must also remain permanent throughout the course to allow students to build greater accountability, team cohesion, and rapport with one another (Jim Sibley, 2018).
In group work, students may be randomly placed together without considering their characteristics, and they need not stay together throughout a course.
3. Team-based learning promotes student accountability.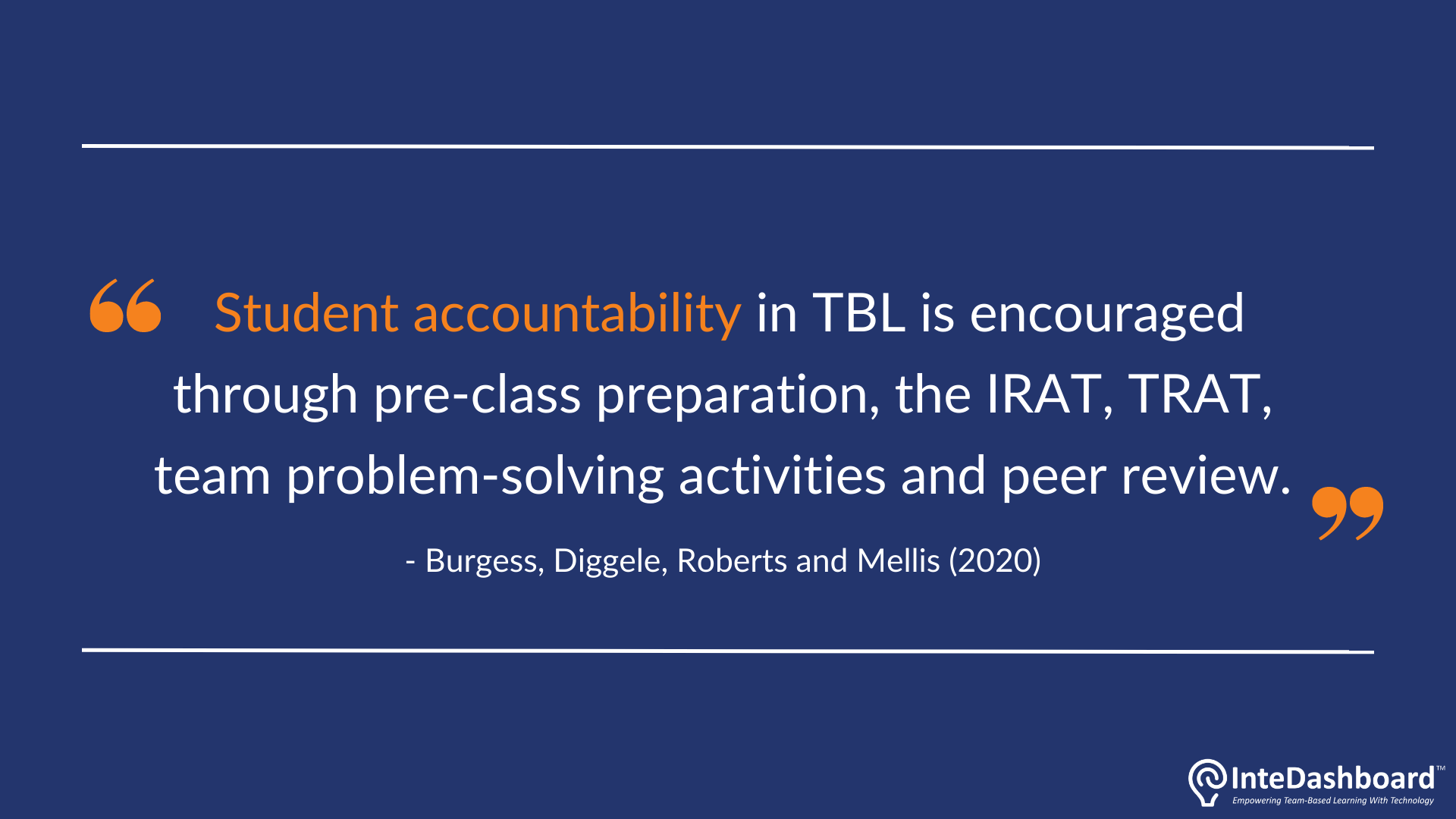 TBL promotes student accountability through the activities embedded in the course structure (Stein, Colyer, and Manning, 2015).
For instance, students need to complete their readings before attempting IRAT and TRAT. By holding accountability for their learning, they will be able to successfully complete IRAT and explain core concepts to their peers during TRAT when needed (Michaelsen, 2004).
Similarly, students need to be familiar with course material to be able to contribute more readily to the group during application exercises.
Additionally, students must evaluate their team members at least once during the course. This peer evaluation component also encourages students to contribute to the team, thus ensuring student accountability (Michaelsen, 2004).
Overall, team-based learning is a structured and effective form of group work which brings more benefits to students.
If you want to get started with TBL, book a consultation with us here.
To learn more about TBL versus group work, download our free infographic below.